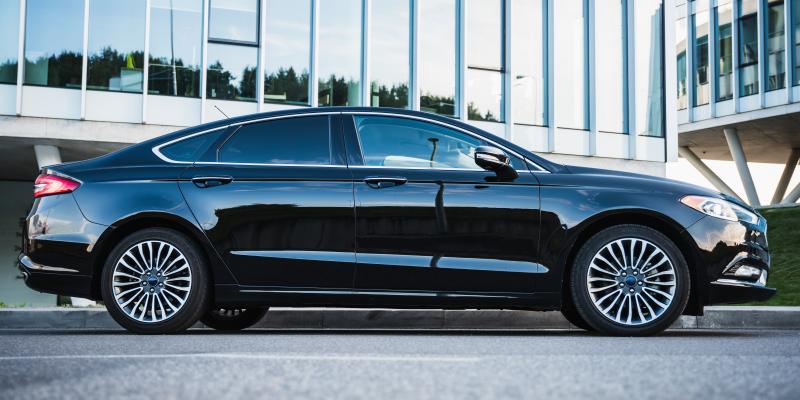 Luxury is the keyword for many car buyers these days, and this year features a number of great new luxury sedans ready for a test drive. Before we look at those cars, though, a little history about the sedan is in order. The word "sedan" originally described a type of man-carried litter or enclosed box, equipped with windows, used to transport a single person. Back then, only the relatively wealthy could afford these newfangled "sedans." By 1912, however, Studebaker had begun marketing their Four and Six model automobiles as "sedans." Since then, any car with four doors, a fixed roof, and seating for four or more occupants is a sedan. With that in mind, and in no particular order, let's take a brief look at this year's great luxury sedans.
1 - The 2021 Cadillac CT5 V
Detroit doesn't lack luxury cars, and Cadillac's 2021 CT5 V has come to the party ready to dance. This mid-size Cadillac also offers the latest technology and safety features. Plus, CT5 V presents it all in a sporty, aggressive-looking package. CT5 Vs feature a very comfortable, upscale interior with an available digital instrument cluster for those who feel they're ready to pilot a SpaceX Dragon crew capsule. Cadillac has also equipped the CT5 V with its Super Cruise driver assistance technology. This cabin tech allows hands-free highway driving under certain conditions (you still have to keep your eyes on the road, though).
2 - The 2021 Lexus ES
For years now, Japan's Lexus has stood for near-perfection in its ride, quality, luxury equipment, and reliability. The 2021 Lexus ES is proof of Lexus's commitment to its luxury car ideals, too, with its faultless ride quality and nearly peerless luxurious interior. Fine, high-quality materials abound throughout the ES's cabin, and its seats are spacious and supportive. In keeping with its luxury car status, Lexus has also ensured the ES comes with an abundance of technology features and infotainment and connectivity options. ES engines range from a 302-hp V6 up to a hybrid skilled at delivering out-of-this-world fuel economy for a luxury sedan of this type.
3 - The 2021 BMW 5-Series
BMW is another German luxury automotive brand, though it's always styled itself as 'the ultimate driving machine.' True enough; BMWs are made to be driven, but that doesn't mean that cars like the 2021 5-Series sedan also don't come packed with luxury features. This BMW's blissful ride joins with its roomy, upscale cabin to give occupants luxury few other sedans can match. Every 5-Series engine delivers plenty of power, and the car delivers a refined ride on rough roads. There's a lot to like about the 5-Series and almost nothing to dislike.
4 - The 2021 Mercedes-Benz E-class
If there's one automaker's marque that's synonymous with luxury, it's Germany's Mercedes-Benz. For 2021, M-B's mid-size E-class line-up of luxury sedans also gets an extensive mid-design-cycle refresh. For example, the maker's newest infotainment system inhabits the E-class sedan along with an array of enhanced driver-assistance technologies. For 2021, the E-450 comes with a new steering wheel, upgrades to the already luxurious interior, and a new turbocharged inline six-cylinder engine with a hybrid system that develops 362 horsepower. Similar in luxury equipment features to the E-450 is M-B's new E350-e, a plug-in hybrid with a 315-hp powerplant.
5 - The 2021 Genesis G80
The Genesis G80 is all-new for 2021 and with a distinctive appearance complemented by a luxurious interior. Compared to its rivals, Korean automaker Genesis delivers a bargain with its G80, especially given the build quality and equipment you get for the price. The mid-size G80's base 300-hp V6 engine is excellent enough. Still, there's also an available twin-turbo V6 that delivers a scintillating 375 horses through its 8-speed automatic transmission. The G80 package comes complete with plenty of trunk space, two-wheel or available all-wheel drive, and more luxury features than many buyers initially realize.